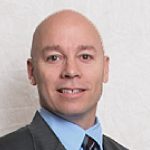 Mark Cook
Mark started officiating in 1983 working youth games while still in high school. He now works games in the Big Sky, WAC, and WCC.
He serves as Coordinator of Officials for the NW Officials Group which assigns men's officials for the NWC (D3) and NWAC (JC). Mark resides in Kennewick, Washington.
Greg Nixon
Greg started officiating in 1979 and currently works in all D1 conferences in the Western Consortium and is a longtime NCAA tournament official. Greg has Division I Conference and National Tournament experience.
He resides in Lakewood, WA.